You can access PDF help guide here, or click on the relevant link below to learn more about each tool.
Table of Contents
Left Controls
Right Controls
---
Zooming In
Click this button to zoom in on the map, alternatively use the mouse wheel.
---
Zooming Out
Click this button to zoom out on the map, alternatively use the mouse wheel.
---
Drawing Paddocks
Clicking this button enables drawing mode, you can then "left-click" on the map to place vertices.
To complete the polygon, click again on the first vertex; this will finish drawing and create a paddock.
Adding Notes to Features
Once you've drawn a paddock, you can click on it to open a popup, which allows adding names/notes.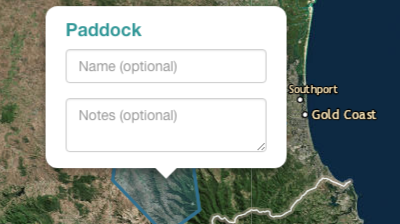 ---
Placing Water Points
This tool allows you to pinpoint where water points are located on your property.
---
Merging Paddocks
Once this mode is enabled, click on adjacent paddocks you'd like to merge into a single paddock.
Clicking the control icon again will disable merge mode, and apply the merge.
---
Dividing Paddocks
After enabling this mode, you can draw a polyline through existing paddocks where you'd like to divide them.
For best results, place first and last vertices outside the paddock(s) you're wanting to divide.
Finish drawing the line by double clicking, or clicking an existing vertex a second time.
---
Cutting Out Exclusion Zones
If an area of your paddock should be excluded, use this tool to "cut" out that portion.
---
Editing Features
Enabling edit mode allows you to do the following:
Drag features
You can move paddocks/gates/water points by "left-click and dragging".
Drag vertices
You can move individual vertices by "left-click and dragging" on a vertex.
Add vertices
"Left-click" on the small marker in between vertices to create a new vertice.
Remove vertices
Removing a Vertex
To remove a vertex from a line or polygon, "right-click" the vertex icon.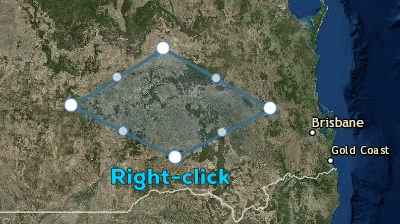 ---
Deleting Features
While in this mode, clicking on features will remove them from the map.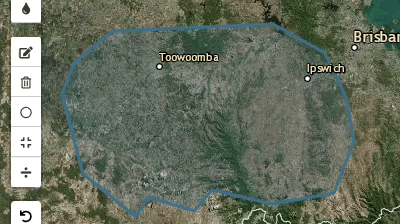 ---
Toggling Vertex Snapping
Toggling this mode will change whether vertices snap to other features.
---
Saving Your Forage Features
Hitting save will store your properties/scenarios in the cloud.
This allows you to resume editing your map at a later time, or from another device.
Important! Your changes will be lost if you close this window without hitting save!
---
Undoing Previous Changes
This allows you to undo your most recent changes.
---
Redoing Previous Changes
If you change your mind after undoing changes, you can reapply them using this.
---
Toggling Layer Visibility
Here you can choose which layers/overlays on the map are visible.
---
Toggling Lot Plan/Land Type Mode
Toggles visible layers to switch between seleting log plans and adding them as paddocks, or detecting land types so you can override land types when requesting reports.
---
Help
Brings up this information.
---
Managing Properties
You can create a number of properties under your login name. A property can have multiple case studies (e.g. alternate paddock configurations such as add water points or exclusion zones).
---
Requesting Reports
Opens a form where you can submit requests to generate reports based on your current scenario.
---
Loading Local Files
This allows you to load existing geographical features from a file on your device.
Supported formats:
GeoJSON
GPX
KML
KMZ
SHP
Zip (containing .shp and .dbf files)
Once you've loaded a valid file, imported shapes will be highlighted red. Clicking on these gives you the option to "import as paddock".
---
Overlaying GeoTIFFs
You can overlay an existing GeoTIFF as a visual aid. Note that it cannot exceed 5MB file size.
The map is using EPSG:4326 projection. If your GeoTIFF has a different projection, the system will try and convert it. If the system cannot determine the projection, the render will fail.
---
Downloading MyFORAGE
You can download your current features in the following formats:
---
Geolocating Your Position
Zooms to your current location based on GPS position.
---
Searching for Locations
Here you can search by addresses, names of places/properties, and also by lot plans.
Selecting a lot plan will load the boundaries, allowing you to "import as paddock".