Indicative Soil Phosphorus Report
What is an Indicative Soil Phosphorus report?
---
The Indicative Soil Phosphorus report provides the 'inherent' (i.e. natural soil with no P fertiliser application) 'plant available' soil phosphorus (P) concentration (indicative – with respect to mapping) and the areas of different soil P categories for different Grazing Land Management (GLM) land types for the selected Lot(s) on Plan (see map extent note below). The information about soil P in the report can assist graziers to improve the efficiency of supplementation for livestock production, fertiliser application and legume development through improved awareness of soil P availability for properties.
Note: The map shows the extent for which the report is currently available (i.e. the Gulf and Cape York regions are unavailable). The current map will be superseded when new analyses are completed and reviewed and will include all of Queensland.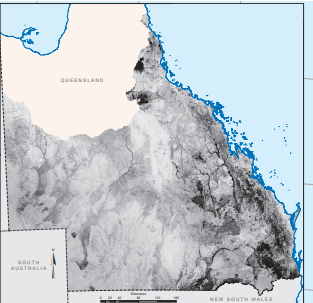 Why is Soil Phosphorus important?
---
The status of soil P affects the P concentration in pastures which plays an essential role for conversion of grass to energy in livestock body, growth and the development of body tissue, development of foetus and production of milk in pregnant and lactating cows. Extremely low or very low available P soils may result in low plant available P and hence P deficiency in cattle. Symptoms of P deficiency include bone chewing, which also increases the risk of cattle contracting botulism. More comprehensive details and symptoms on P deficiency can be found in the Reference list (under FAQ).
Videos about Phosphorus supplementation:
Phosphorus supplementation at Kidman Springs - FutureBeef website
Phosphorus supplementation of cattle in northern Australia - FutureBeef website
What is included in the report?
---
The Indicative Soil Phosphorus report includes:
The property-scale map of soil P shows the soil P concentration that has been estimated using digital soil mapping methods from site locations with bicarbonate extractable P (Colwell-P) results within surface soils (0-10cm). The results are measured in the unit of 'parts per million' (ppm, mg/kg). The red dots on the map show the locations where soil samples have been analysed for Colwell-P. The P samples have been collected by soil surveyors since the 1960s.
Note: while bicarbonate extractable P is a better measurement of biological availability than total P, it may still not indicate true plant availability in all cases. For example, in iron rich soils, P may be less available to plants than indicated by this analysis - due to the P-binding nature of these soils.
Classification of Soil P for Land Types (Page 2)
A table shows the indicative area (ha) and percentage of different soil P categories that are present for each GLM land type in the selected Lot(s) on Plan. The categories are classified based on soil P concentrations and include: Extremely Low (0-4ppm); Very Low (4-6ppm); Low (6-9ppm); Moderate (9-15ppm); High (15-25ppm); and Very High (>25ppm).
Map of Soil P Data Uncertainty (Page 3)
This map indicates the uncertainty of soil P data in the Soil P Map (page 1). High uncertainty is likely to be due to a paucity of soil sample measurements and high natural variability of soil P.
The reference list provides publications in which the detailed phosphorus information on soils, plants and animal nutrition and well-being can be found.
Report sample
---
Report quick guide (PDF, 3.3 MB)
Subscription option
---
Periodic subscriptions (1, 2 or 3 months) are available for this report. See here for more information on how to subscribe and unsubscribe.
Common questions about Indicative Soil Phosphorus report
---